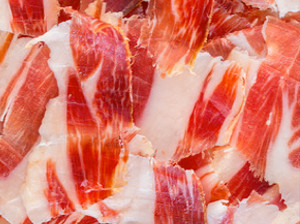 A VIP Ham Tasting
Spain's acorn-fed Iberico ham ranks very high among the country's homegrown delicacies and Madrid Experience offers you the chance to participate in a VIP ham tasting session.
If your group has more than 10 people in it the ham tasting will be carried out in one single place, however, if you are a small group, we can organize a VIP ham tasting route where we will visit some of the city's best known ham emporiums.
This is a culinary tour dedicated to the country's best Iberico hams which will take place in several hand-picked places where they serve only the best hams. There you will be able to try and compare the most exquisite and diverse varieties of this most Spanish of delicacies with the help of our ham expert who will unveil some its least-known secrets.
What you need to know:
Because this is a ham tasting, it is important to keep in mind the importance of its texture, aroma and flavor. Its Appellation of Origin is also a very important element since its quality and taste will depend on the amount and the quality of the acorns the pigs have eaten throughout their lives, how much exercise they had, and if they are a pure breed or not.
If you want delve a bit deeper into this product, here are some tips which we hope will entice you to try this succulent gastronomic delicacy.
Color: The slices of ham are shiny bright red with a hue that goes from purple to pale pink.
Touch: Slices should not just be soft and smooth, they should feel soft to the touch.
Aroma: The piece of ham should have a pleasant and balanced strong smell.
Veins: This refers to the 'veins', or layers, of fat on each slice. In them you will see right away the cut, form and distribution of the fat.
Juiciness: This depends on the meat's own juices as well as its fat content since this will stimulate the flow of saliva.
Taste: In any good ham we can identify three flavors: savory, sweet and bitter.
Madrid Experience – www.madrid-experience.com
Email: info@madrid-experience.com
Tel. 00 34 644 355 651 – 00 34 915 417 099