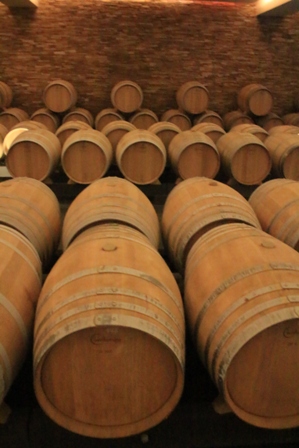 Luxury Wine Tour
IN LA RIOJA OR RIBERA DEL DUERO
At Madrid Experience you can tell we like wine, especially after reading about the experience we are about to propose to you. We have simply centered on enjoying a day which has been meticulously and caringly planned so that you have a fantastic day out. Before going further, we want you to know that we are talking about a tailor-made exclusive VIP Wine Tour which can only be arranged through Madrid Experience.
Our Gourmet & Wine Tours in Spain take place in private estates and family-run cellars and in them the host and owner of the vineyards, takes part to ensure you feel their passion for wine and the land they tend to daily.
Madrid Experience will take you to see some of Spain's best cellars. You can choose between the best-known ones, or, as wine connoisseur, you may want to visit the most select cellars in the country. These surprising private places are usually family-run and, given their private character, are out of the reach of the public at large.
Our bespoke Wine Tours of the wine-growing regions of La Rioja and Ribera del Duero center around areas especially selected because of the excellence of their wines and the history behind them, their architecture, and because we can count of the hosting abilities of the owners themselves to ensure you have an exceptional day.
Our itineraries, which will be tailor-made to your specifications and availability (1, 2, 3, or 4 days), can be further enriched with other extraordinary experiences which depend solely on the dates chosen for your private Wine Tour. What do we mean by extraordinary? We mean about that unique moment of the treading of the grapes over a stone press to drink the freshest must you have ever tried, or even some wine therapy at a nearby spa. You will also be able to sample some of the best local cuisine the Rioja region has to offer right at the winery, taking in the feeling of being out in the open, enjoying the sun and the open air. We can also organize a wine tasting course, where you will learn about the different types of grapes and try to predict what kind of wine will be made from then, something which is as of yet greatly unexplored as a part of enotourism.
Our VIP Wine Tour includes transportation in luxury, chauffer-driven automobiles, and meals at the best restaurants in the region where you will be able to enjoy the region's famous cuisine. Being able to enjoy the countryside and feel nature about you in a real vineyard is certainly a luxury, but one which Madrid Experience places at your reach. Come and enjoy with us the cultural legacy of wine.
Contact us at:
Madrid Experience – madrid-experience.com
Email: info@madrid-experience.com
Tel: 0034 915 417 099 – 0034 644 355 651